Learning disability charities have called it "utterly disgraceful" that people with learning disabilities living in specialist units are being "regularly restrained, over-medicated and kept in isolation".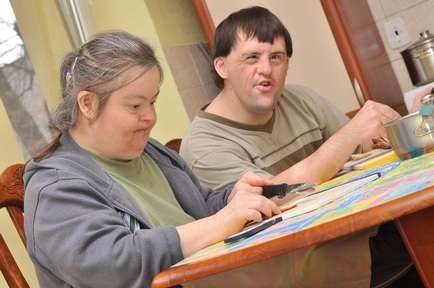 The Learning Disabilities Census was commissioned in the wake of physical and psychological abuse suffered by people with a learning disability at Winterbourne View Hospital.
It reveals that 68 per cent of inpatients with learning disabilities had been given anti-psychotic medication in the 28 days leading up to census day and of these 93 per cent had been given it on a regular basis.
Fifty-six per cent had experienced self harm, an accident, physical assault, hands–on restraint or been kept in isolation during the three months preceding the census, according to the Health and Social Care Information Centre (HSCIC), which published the report.
The cost of caring for people with learning disabilities in specialist units can reach as high as £4,500 a week yet nearly three-quarters of inpatients do not have a plan in place which will enable them to move out.
Chair of the HSCIC, Kingsley Manning said: "The Learning Disabilities Census, and this further analysis, is an important contribution to understanding how episodes such as those seen at Winterbourne View Hospital can be avoided in the future."
<h2>Learning Disabilities Charities call findings "shocking" and "profoundly worrying"</h2>
In the wake of the findings, Jan Tregelles, chief executive of Mencap, and Vivien Cooper, chief executive of The Challenging Behaviour Foundation, called the failure by the Government to do anything "an utter digrace" and added: "In December, we were told that two and half years on from the Winterbourne View scandal, 3,250 people with a learning disability were still stuck in similar institutions. This was shocking enough, but what we have heard today about the actual circumstances of these individuals is profoundly worrying.
"That some of the most vulnerable people in our society are in settings where they are regularly restrained, over-medicated and kept in isolation is utterly disgraceful.
"In addition, the fact that this appalling 'care' is costing the public purse, in many cases, up to £4,500 per week demands that urgent questions are asked and answers provided."
Steve Sollars, father of Sam, who was at Winterbourne View, called it "devastating to hear that this is still happening".
He said: "My son, Sam, who was at Winterbourne View, was restrained 45 times in a six month period. We will never know how much more he was subjected for the rest of his two year time there. When he came out of Winterbourne View Sam was unrecognisable because of what he had been through. He is now flourishing in the place where he is. Good care is possible and everything must be done to stop abuse and suffering of people who find themselves in similar places to Sam."
No plans to return home can have devastating impact on whole family
Jenna Pulley, Get a Plan in Cornwall project manager, at the Foundation for People with Learning Disabilities, called it "disgraceful" that 71 per cent don't have a plan to return home.
She said: "Not only does this come at a high financial cost, but has a devastating impact on the whole family."
The report also revealed that administration of anti-psychotic medication appears to be associated with an increased likelihood of experiencing hands on restraint. Forty per cent of those given these drugs had experienced at least one episode of hands on restraint, compared to 22 per cent of patients who were not given this type of medication.
The new analysis of the 2013 Learning Disability Census provides further information on inpatients with learning disabilities in England, being treated in specialist units, following publication of the initial findings in December 2013.
Read the full report here